About BPRC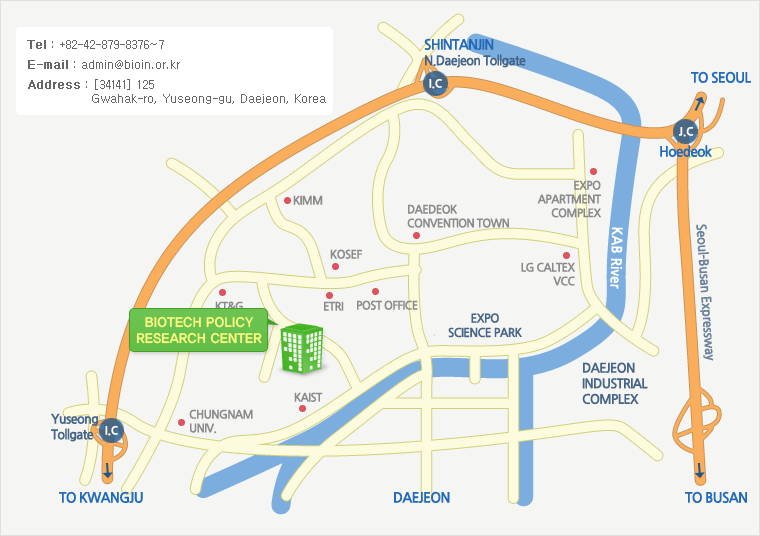 From Incheon International Airport (ICN)

Daejeon is located about 250 km southeast of Incheon International Airport.

The Airport Limousine Bus, which runs every 20 to 40 minutes, is the ONLY way to and from ICN. The bus stops at Lotte Hotel, the Government Complex Building, and terminates at the Daejeon Eastern Express Bus Terminal. There will be a short break at a highway rest area before arriving in Daejeon. Once the bus exits the highway, prepare to get off at the second stop "Government Complex Building" (정부청사), the closest stop to KRIBB. The bus ride takes less than 3 hours. Then take a taxi to KRIBB. The taxi fare is around $3.00 (USD) or 3,000 won (KRW).
The bus boarding location at the airport is 9D. The Standard Airport Limousine Bus fare is 14,000 won (KRW) and the Deluxe is 21,000 won (KRW). (Fares are subject to change.)

From Seoul

By KTX Express Train

The KTX Express Train operates from Seoul Station (above ground) to Daejeon Station 2 to 5 times per hour, depending on the time of day. The train ride takes about 1 hour. After you get off at Daejeon Station, take a taxi to KRIBB (30 minutes).

By Inter-City Express Bus

The Inter-City Express Bus runs from the Express Bus Terminal in Banpo-dong to Yuseong Terminal twice an hour. This bus ride takes about 2 hours. Take a taxi to KRIBB (10 minutes).